Canon TS-E 24mm f/3.5 L Tilt-Shift Lens – What is it and why did I want one?
I'll go ahead and give you the short of it since the long of it might either bore and or confuse you to death. BUT, if you would like the full drop on this amazing lens, I highly recommend you check out this site, Canon TS-E 24mm f/3.5 L Tilt-Shift Lens Review.
There are 3 movements (tilt/shift/rotate) that this lens makes but tilt & shift are the ones I will focus on primarily (pun intended).
But Tim, you wonder, why would I want my lens to do any of those in the first place? Well, I'm glad you asked.
First the T of the T&S
T is for Tilt: by tilting (moving) the lens left or right you can put the lens at an angle to the focusing plane.
Ok great, but what does that mean exactly? Basically it gives you the utmost control over the DOF of your subject. That can work both ways, it can keep your subject in focus (and have a very broad DOF i.e. everything in focus) when there isn't sufficient DOF.
By tilting in the other direction, you can retain selective focus on your subject and obtain a very shallow DOF (everything but your subject is out of focus).
I am of course a big fan of the shallow DOF:
S is for Shift: by shifting the lens (moving the lens up & down relative to the sensor plane) you can correct lens convergence; among other things.
The most common example of this would be shooting a tall building. Since your sensor plane is not parallel to the building, the farther away from the building your camera is the more the top of that building, the more it converges towards the center (i.e. the edges of the building lean towards the center). By shifting the lens you can make the entire structure straight, perpendicular to the camera.
Here is an example of shifting the lens that I shot a couple years ago when I rented this lens.
Taken with my regular Sigma 12-24mm lens: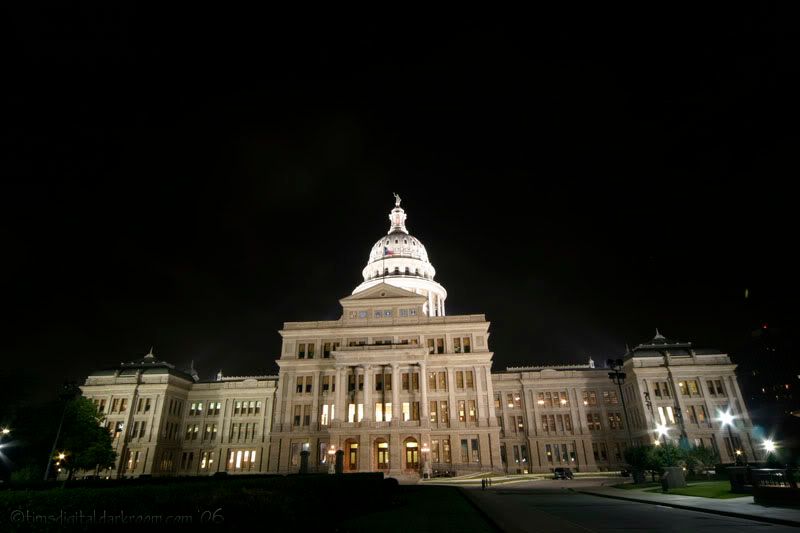 and then "basically" the same shot with the Canon 24mm TSE with the shift function
The rotate function allow you to control the angle of the tilt or shift.
BUT WAIT! There's more!!! Here is where it gets interesting.
If you use both the tilt and shift in conjunction with each other you can achieve shots that resemble miniature models.
I was unaware of this trick the first time I had the lens and I've only tried to replicate the effect one day thus far. I think the following are not great examples of the effect but it kind of gives you an idea of what you could do with it.
Like this post? Please link to me :-)